Interested in joining Circle City for the 2017-18 club season?
If you are looking to focus on sharpening your skill set a step above our summer camps, this is for you. We will be organizing small group lessons for players of all ages from all around the area. Open to any players with any club affiliation who might be interested in checking out Circle City for the 2017-18 club season. A great opportunity for more touches in preparation for the school season! Groups will be paired accordingly based on age, skill, positions, etc. Contact Lance Keating for more information: lkeating@capitolsportscenter.com
Shop our online store!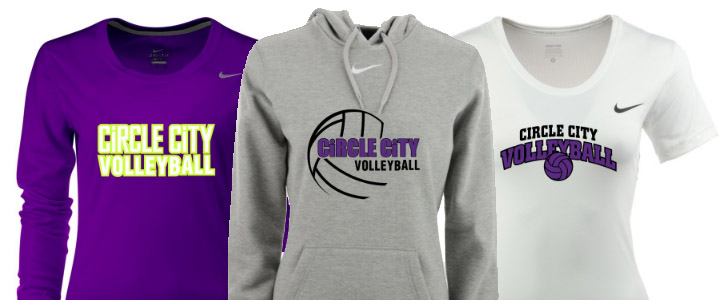 2017 Friday Night Development Program
The Friday Night Development Program is available for 1st through 5th grade girls and boys and is a great introduction to volleyball. There are no try-outs for this program. We will have two sessions and you may sign up for one or both. Each session will be seven weeks and will meet on Friday's from 6pm to 7:30pm. The cost for each session is $140. The following are the dates for each session:
Session 1
Session 2

January 13, 20, 27
February 3, 10, 17, 24

April 7, 14, 21, 28
May 5, 12, 19
Each participant will receive a t-shirt. If you would like to participate, please contact us using the registration form below.
Sign-Up & Pay Online OR Download the Registration Form
Recruiting Information
The Circle City Volleyball Club has helped hundreds of student-athletes with the recruiting process. For those new to club, and even those who have played at Circle for years, the rules and requirements can seem a little overwhelming. So, we have put together a short information page for those interested in the recruiting process, from Freshmen year to Senior year. Read more >
2016 Girls' Junior National Championships
Congrats to 15 Purple on their 3rd place finish in 15 Open at the Girls' Junior National Championships, which were held here in Indianapolis. Caitie Baird & Brooklynn Phillips were named to the All-Tournament team.
Congrats to 15 White on their 5th place finish in 15 American at the Girls' Junior National Championships, which were held in Indianapolis. Elise Carmichael was named to the All-Tournament team.
BURST Returns to Circle City With Robert Blackwell
Circle City is excited to welcome back Robert Blackwell. Rob is in charge of the BURST program to help make our players better athletes. The program consists of 50 minute sessions to help develop players into better jumpers with quicker movements. BURST sessions are held Sundays at 1:00pm and Wednesdays at 6:00pm until January. Rob has had a great deal of success on many levels and we are excited to see the improvements he can make in our athletes as well. If you are interested in taking part in this voluntary program, please email Rob at RobertBlackwell3@yahoo.com.